---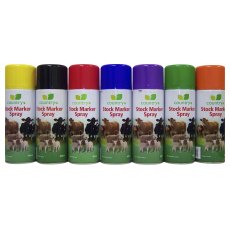 Country Stock Marker Spray - 400ml
Approved by the British Wool Marketing Board providing farmers with a reliable sheep marking solution Also suitable for use on cattle Available in seven vibrant colours: Red, blue, green, orange, yellow, purple and black Weather resistant and fully scourable Rapid drying formulation Works on both wet and dry fleeces
---
Flexmark Dales Marking Fluid - 2.5ltr
Ready to use, a traditional long term marking fluid. Versatile top quality fluid developed specially for upland sheep. For numbering purposes it can be used in conjunction with branding irons, or with a stick for spot marking. Can be applied in wet or dry conditions. Can be used pre and post dipping. (It is NOT advisable to dilute the marking fluid as this will reduce durability...
Flexmark Dales Marking Fluid - 5ltr
The Dales Sheep Marker has been designed to cater for upland sheep, which are generally more prone to experiencing all elements of the weather. Dales Sheep marker fluid adheres strongly to a sheep's coat and is available in a range of colours, making it ideal for numbering/ marking your flock. Can be used in conjunction with a stick for spot marking Can be used in wet and dry conditions Can...
---
Ram Crayons All Temperature
The Flexmark All Weather Crayon. Only the brightest ewes get Flexmark! Brighter, Clearer and Longer Lasting. Available in lots of great colours too. Available in Green, Red, Yellow, Orange, Blue, Purple. Please note, these may come in an mixture of Flexmark or Nettex.
Ritchey Sprayline 400ml
Highly durable and BWMB approved as fully scourable. - Ideal for sorting, grading or pairing ewes with lambs at birth. - Fuly emptying cans with a block free nozzle. - Use on wet or dry fleece. Available in Red, blue, green, orange, purple, yellow and white.
---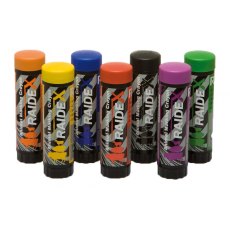 Wax Marking Stick Twist Up
Animal marking sticks are applied mainly for short-term marking of cattle, sheep and pigs. For good visibility apply marking colour to the upper back of the animals. The marking is durable for approx. 4 weeks on cattle and sheep, and approx. 1 to 2 weeks on pigs. They are heat and cold resistant, highly colour-intensive and luminous. The material contents are not harmfu