---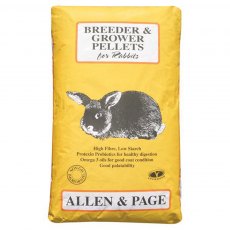 A&P RABBIT BREEDER GROWER 20KG
Allen & Page Rabbit Breeder & Grower Pellets are completely balanced, high energy pellets with all of the vitamins and minerals a young rabbit needs. These pellets are suitable for feeding from weaning through to adulthood, and to the pregnant doe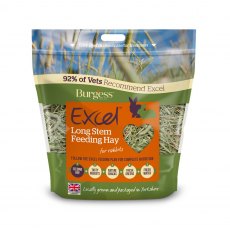 BURGESS EXCEL LONG STEM FEED HAY 1KG
Do you know that in order to keep your rabbit's teeth and tummies healthy they need to eat their own body size in hay every day? That's a lot of grass and hay so it needs to be good! Bedding hay is good to sleep on but lacks the nutritional values of feeding hay. Burgess Excel Long Stem Feeding Hay is Timothy Hay grown on a Yorkshire farm, cut at the right time and dried within 48 hours....
---
BURGESS RABBIT EXCEL 10KG
Burgess Excel Rabbit Nuggets is a delicious, complementary food for adult rabbits that?s high in fibre and rich in nutrients. Excel Tasty Nuggets prevent selective feeding where the rabbit picks out the sweet high sugar elements of the diet and leaves the nutritious and fibre rich elements.
from £5.50
ex VAT from £5.50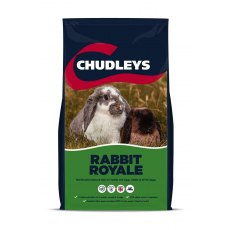 ---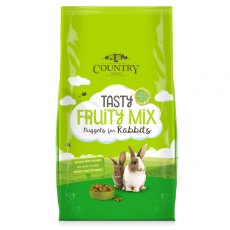 COUNTRY VALUE RABBIT NUGGET 10KG
Country Value Rabbit Nuggets is a delicious complementary food for rabbits that is rich in fibre for healthy digestion. Every nugget contains a delicious mix of fibre, vitamins, minerals and lifelong goodness. These nuggets prevent the picky, selective feeding which can cause rabbits serious health problems.
HEYGATES COMMERCIAL RABBIT PELLETS & COCCIDIOSTAT 20KG
Heygates Commercial Rabbit Pellets with Coccidiostat is a 3mm pellet suitable for commercial and domestic rabbits. Heygates rabbit pellets are manufactured from quality raw materials with locally produced cereals fortified with proteins, minerals and vitamins to satisfy all your rabbit's nutritional requirements.
---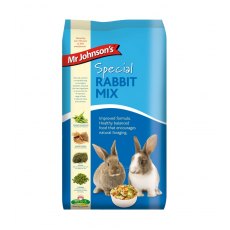 MR JOHNSONS SPECIAL RABBIT MIX
Mr Johnson's Special RABBIT MIX - No added pellets is a fibrous, nutritious and wholesome pellet-free blend of steam flaked peas, cereals, alfalfa, extrusions & herbs - supplying your rabbit with a tasty, healthy food in a variety of textures to encourage your rabbit?s natural foraging instinct.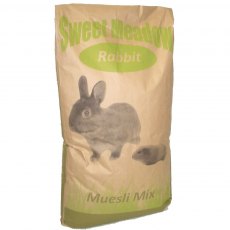 SWEET MEADOW RABBIT 20KG
Sweet Meadow Rabbit Mix from Youngs Animal Feeds is a complementary muesli mix with a light oil/molasses coating to increase palatability and prevent the food being dusty. The inclusion of dried grass and grass pellets provide a good source of fibre. Cooked and micronized flakes are easily digestible, whilst the specialist vitamin/mineral pellets help towards a balanced, nutritious diet.
---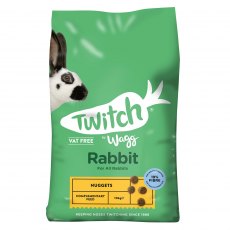 TWITCH BY WAGG RABBIT NUGGETS 10KG
A complementary rabbit feed is designed to be fed alongside a diet that is up to 85% hay or fresh grass. Rabbit Nuggets contain 19% fibre and yeast extracts to keep your rabbit?s digestive system healthy. A variety of high quality ingredients are all combined into a single nugget formula to avoid selective feeding and promote a balanced diet.