---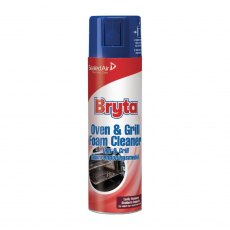 BRYTA OVEN & GRILL FOAM CLEANER 500ML
Heavy duty oven and grill aerosol cleaner Powerful, exceptional degreasing foam oven cleaner Dissolves grease and removes burnt on carbon deposits easily For deep cleaning and degreasing inside ovens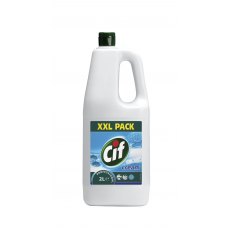 CIF CREAM CLEANER 2LTR
Cif Cream Original, with its refreshing floral fragrance, is made with 100% natural cleaning particles derived from limestone to provide gentle and reliable cleaning. This multi-purpose Cif cream surface cleaner removes 100% of tough dirt for a beautifully clean finish on a range of surfaces. It can be used as a kitchen cleaner to clean hobs, sinks, and kitchen tiles, and it makes the perfect bathroom...
---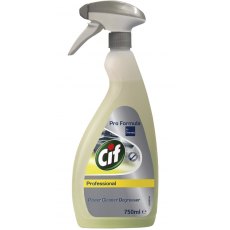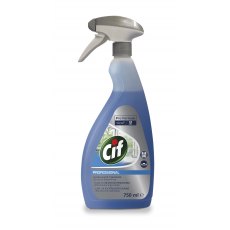 CIF PROFESIONAL WINDOW AND MULTI 750ML
This Cif Professional Multisurface 750ml trigger spray cuts through grease and grime to leave a streak-free finish. Suitable for use on a range of surfaces, including windows, Cif Multisurface Cleaner makes cleaning a breeze. Ideal for professional cleaners, this product can also be used in the home. Cleaner for most surfaces including windows Designed not to streak or smudge Removes grime and grease Trigger...
---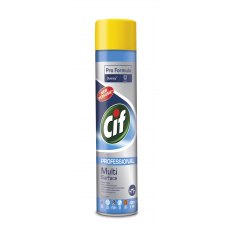 CIF PROFESSIONAL MULTISURFACE 400ML
Aerosol multi surface cleaner With anti-static agents For dust removal and every day marks For computer screens, televisions, hi-fi and modern hard furniture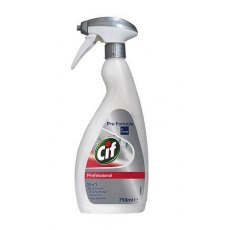 CIF PROFESSIONAL WASHROOM 750ML
Cleaner and heavy duty descaler to tackle washroom limescale, dirt and soap residue. Delivers sparkling results and a long-lasting fragrance. Ideal for baths, showers, wash basins, WC, chrome & stainless steel, plastics & ceramics.
---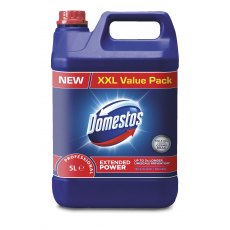 DOMESTOS - 5LTR
Thick bleach Exceptional long lasting germ kill with C-TAC to thicken and allow it to cling longer to the surface Ideal for toilets, sinks, waste areas and drains
DOMESTOS TOILET GEL OCEAN FRESH 700ML
Multi-Jet Nozzle for maximum coverage and reach. Power Fresh kills germs and destroys tough dirt and limescale and also provides a powerful gel shield that protects the toilet from the build-up of tough dirt. Blasts tough dirt Shields between cleans Better coverage under the rim
---
FAIRY DISHWASHER TABLETS - 100PK
Fairy Professional Dishwasher Capsules All In One Original is an all in one dishwasher capsule specially designed for daily cleaning of your dishes in a professional dishwasher. It provides not only Fairy cleaning, dissolves fast and removes dried on grease of dishes, but also silver protection, metal shine for sparkling cutlery and stainless steel items, and a rinse aid and salt action.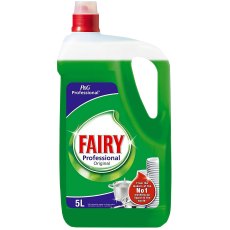 FAIRY LIQUID - 5LTR
Cut through grease and grime with the brilliant Fairy Original Washing Up Liquid. This amazing formula will give your dishes a thorough clean and one drop goes a long way, lasting 50% longer than any other brand. This five litre bottle is great for refilling smaller bottles and wasting less plastic, a great addition to any home or small businesses.