---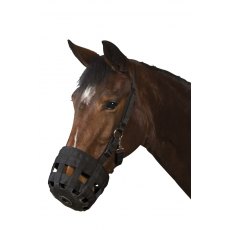 Roma Nylon Grazing Muzzle
Nylon bucket muzzle to limit grazing., Soft rubber base sides with nylon web side bars., Adjustable head strap with field safe velcro and adjustable throat strap with metal clasp.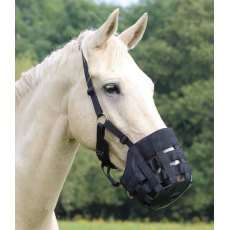 Shires Comfort Grazing Muzzle
Shires grazing muzzles are proven to help with controlled or restricted feeding regimes and special diets. The Comfort Grazing Muzzles are cut back under the chin to avoid unnecessary pressure and improve the fit. The muzzle features a rubber base with a hole in the bottom through which grass can enter, reinforced nylon web bars which allow free air exchange and the anti-chafe padding around inside...
---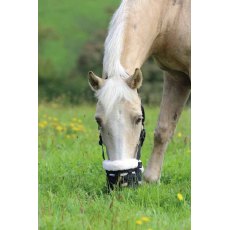 The Ultimate Muzzle New Zephyr One Size
The Zephyr Muzzle is similar to the Ultimate Muzzle in that it has nostril holes and a rectangular mouthpiece. However, it is shallower like standard muzzles, to accommodate larger jaws in chunky ponies and small cobs. It is currently only available in cob size. The Zephyr Muzzle attaches to your existing headcollar with velcro straps. We strongly recommend that you use this product with a leather...
---
Ultimate Muzzle Wool Chin Protector Only
To fit a wool chin pad to your Ultimate Muzzle, undo the velcro on the near side throat strap to release the upright strap at the back. Thread the upright strap through the slot at the top of the pad, re thread the throat strap and fasten the velcro. Use the small velcro straps on the pad to thread through the gaps at the back of the muzzle and fasten on the outside. If fitting the pad to a small pony...