---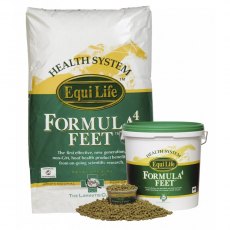 EQUI LIFE FORMULA 4 FEET 7KG
The leading UK hoof and laminitis supplement. Developed at the Laminitis Clinic. Certified non-GM. Every batch cleared by the world's leading forensic laboratory. Provides over 65 nutrients for a healthy horse with strong feet, 7kg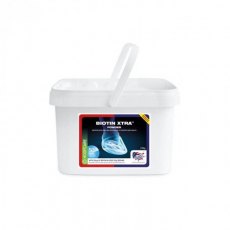 EQUINE AMERICA BIOTIN EXTRA 2.5KG
Palatable, cost-effective formulation providing nutritional support for strong, sound hooves Provides 20mg biotin per serve, to help improve and maintain hoof horn quality Also contains methionine for keratin production to help strengthen cracked hooves With added MSM, zinc and calcium With Brewer's yeast to provide important B vitamins Equine America is BETA NOPS and UFAS assured which...
---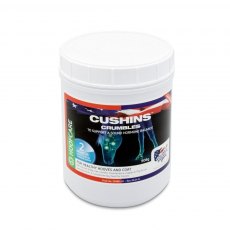 EQUINE AMERICA CUSHINS CRUMBLES
Helps horses and ponies to retain and restore hormone levels. Made with chaste berry. Suitable for older horses and ponies. The Equine America Cushings Crumbles are made with chaste berry to help horses who suffer from Cushings. The chaste berry helps horses and ponies to retain and restore their hormone levels, this means they are able to lead a more healthy life, particularly if the horse...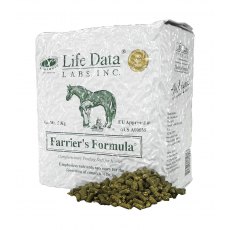 FARRIERS FORMULA 5KG REFIL
Farrier's Formula® is a hoof supplement that provides nutrients such as phospholipids, omega fatty acids, vitamins, minerals, and important amino acid "protein building blocks". These nutrients enable horses to build strong connective tissue proteins important for healthy hoof structure and growth. Over 30 years of research, clinical trials and field testing validate the effectiveness...
---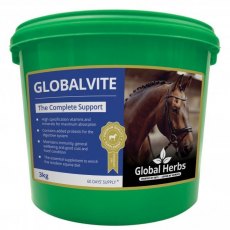 GLOBAL HERBS GLOBALVITE 3KG
GlobalVite is packed full of premium and unique chelated (protein bound) minerals which makes them easy for your horse's body to absorb. These important minerals are ideal for supporting general bodily functions, maintaining peak condition and immune system stability. GlobalVite helps to support healthy joints, skin, hooves and much more. Great for changeable weather conditions, GlobalVite tastes...
HORSE FIRST HOOF FIRST
Hoof First unique formula contains high strength Biotin with all the essential vitamins and minerals to produce a healthy hoof. It is well known that Biotin will grow horn but at HORSE FIRST we want to give you more, a strong, healthy hoof with continuous growth. Hoof First grows hooves which are better for your farrier to work with, and fights problems such as thin soles, cracked, chipped or weak...
---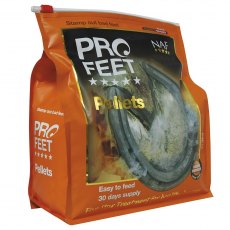 NAF PRO FEET 3KG
PROFEET supplements are unique in that they not only provide nutrients to directly support hoof health, they also provide nutritional support that helps target healthy liver function, which, in turn is fundamental to healthy hoof growth. Biotin is combined with a rich sulphur complex of methionine, lysine and MSM, minerals including calcium and zinc, and a broad spectrum of naturally sourced amino...
NAF PRO FEET HOOF MOIST 900G
An entirely natural product with a dual action, Hoof Moist helps improves hoof condition. The smooth gel can be easily applied with either a hoof brush, soft cloth or by hand. Oil and grease free, Hoof Moist has been especially formulated to sustain the moisture content of the hoof and allow natural fluctuation of moisture levels. The ingredients used to make Hoof Moist are of human cosmetic grade...
---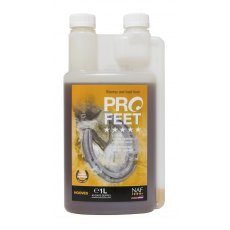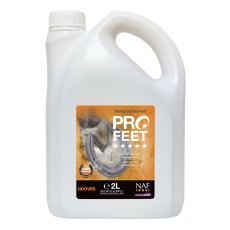 ---