---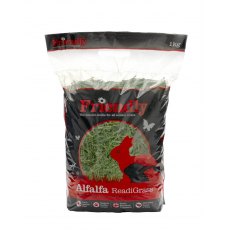 Alfalfa Small Bale Friendly - 1kg
Alfalfa ReadiGrass is made exclusively from Friendly's own fields in the heart of Yorkshire. It's fibrous stalks and delicious leaves provide appetising variety for many small animals. Rich in protein and calcium, it is ideal for pregnant, nursing and young small animals, whilst also providing a tasty treat for mature animals. Benefits of Friendly Alfalfa ReadiGrass High in beneficial...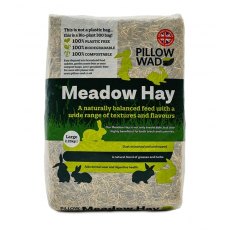 Pillow Wad Meadow Hay Maxi - 3.75kg
Pillow Wad Meadow Hay is an english meadow hay that is soft, palatable for small animals and is full of natural vitamins. This natural hay product is made using traditional methods from established meadows resulting in a blend of grasses and herbs that is packed full of nutrition. Dust extracted and sieved to remove dust spores. Pillow Wad print on the Date Of Manufacture and the field the hay is...
---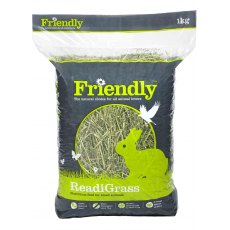 Readigrass Small Bale Friendly - 1kg
Small Friendly Readigrass is a 100% natural feed, made exclusively from British Pastures. The unique low-temperature drying process removes only the water leaving the fragrant aroma, vibrant colour and high nutrient value of fresh grass. This gives a feed that is more nutritious than hay, yet still contains the digestible fibre essential for your animal's health. This highly successful product...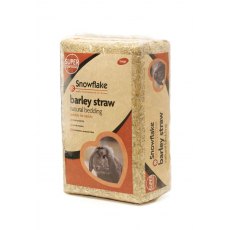 Snowflake Barley Straw
Snowflake Barley straw is dust extracted before being chopped into short strands which ensures a comfortable, cosy and insulating bedding for your pet.
---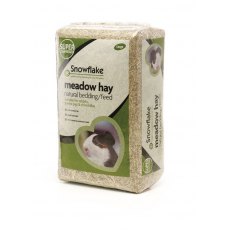 Snowflake Meadow Hay
Snowflake meadow hay is dust extracted before being chopped into short strands for your pets' comfort and safety. A fresh supply of hay should always be available for your pet to eat as a tasty treat as it provides fibre which is essential for a healthy digestive system. Nibbling the strands can also help keep your pets' teeth short and in good condition.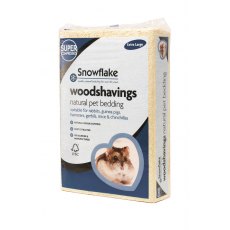 Snowflake Shavings Pet - Bedding
Snowflake woodshavings are biodegradable, soft, comfortable and make a cosy home for your pet. As well as being absorbent and dust extracted to create a healthy environment, the woodshavings natural odour control will leave your pets home smelling clean and fresh. Snowflake woodshavings range are available in several sizes from small to giant and is the perfect bedding choice for rabbits, guinea...