---
GO CAT COMPLETE
Go-Cat Comp Tuna Herring & Veg is a combination of ingredients including cereals, fish, vitamins, vegetables and minerals make Go Cat a 100% complete & balanced meal. High quality protein to help support his natural defences, for toned muscles including the heart and for good digestibility. Right balance of essential minerals to help maintain strong bones and teeth and a healthy urinary tract....
from £5.75
ex VAT from £4.79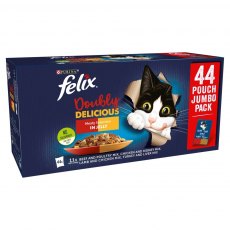 FELIX AGAIL MEGAPACK POUCHES - 88 PACK
Felix Pouch As Good As It Looks Doubly Delicious Meat in Jelly is a range of delicious meals made with two different types of tender meat or fish in a delicious jelly which look and smell so meaty, it looks like food you might have cooked yourself. Now your cat can enjoy two of his favourite varieties in one delicious meal! It's an irresistible meal for your cat. Also, Felix As Good as It Looks Doubly...