---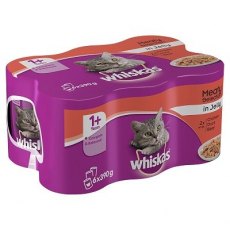 WHISKAS CAT FOOD 6 X 390G MIXED VARIETY
The tasty Whiskas Tins range includes meals of so many delicious flavours that you'll never be short of inspiration when it comes to your furry friends mealtime. Plus, you'll always be sure she's getting all the essential vitamins and minerals she needs to stay healthy and happy
WHISKAS DRY - 2KG
Cats love variety and by adding Whiskas dry to your cat's menu you can create an even greater variety of taste and texture in her food. Whiskas dry cat food contains delicious crunchy meaty nuggets packed full of taste and bursting with goodness.
---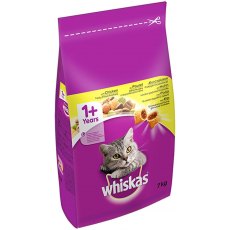 WHISKAS DRY - 7KG
Whiskas Dry 1+ Chicken Cat Food is a nutritionally complete and balanced food designed to suit the needs of adult cats. By using high quality ingredients this food is able to keep your cat in top condition all year round. Flavour: Chicken
WHISKAS MIXED POUCHES - 40 PACK
Complete Pet Food for Adult Cats. Whiskas delicious meals and cat treats are formulated for your cat's diet. 100% Complete and Balanced pet food. Cat food contains no artificial colours, flavours or preservatives.
---