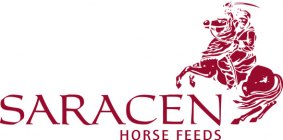 ---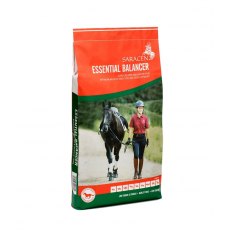 Saracen Essential Balancer - 20KG
Saracen Essential Balancer is a suitable feed for all horses & ponies which require a low calorie, balanced ration. The feeding rate of the pellet is fairly low due to it being nutritionally dense, a blend of yeasts have been included to boost digestion of the feed & forage as well as maintain hindgut health.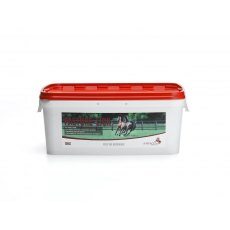 SARACEN PASTURE-LICK - 10KG
Saracen Pasture-Lick is a vitamin & mineral lick designed to balance out any nutrient deficiencies in the diet of a horse that is only fed forage. It has been found over a number of years that modern grasses are deficient in a wide range of major & minor elements which can lead to issues in all types of horse, especially breeding stock. This highly palatable form of these minerals ensures that...
---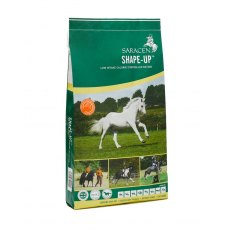 Saracen Shape-Up Balancer - 20KG
Saracen Shape-Up Balancer is designed for horses & ponies that are overweight or predisposed to laminitis, good doers & native breeds. The feed works by maintaining a healthy digestive environment which reduces free radicals & supports immune function.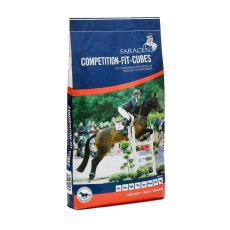 SARACEN COMPETITION FIT CUBES - 20KG
Saracen Competition Fit Cubes are the ideal feed for horses and ponies that have a higher energy requirement than standard competition horses. It is especially useful for those with excitable temperaments that need a bit more power in their legs. Utilises a range of energy pathways to optimise power and stamina.
---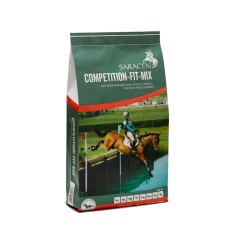 SARACEN COMPETITION FIT MIX - 20KG
Saracen Competition Fit Mix is for horses and ponies that require instant energy for speed and power based disciplines. This is an ideal food for horses with a limited appetite as it is so nutrient dense. This is a cereal based mix that has been enriched with chelated minerals, live yeast and electrolytes to improve overall performance and recovery. A unique apple flavouring has been added to improve...
SARACEN CONDITIONING CUBES - 20KG
Saracen Conditioning Cubes, a high fibre and oil ration that includes the incredibly effective EQUI-JEWEL®, a high-fat supplement which supports low feeding rates whilst supporting optimum condition and topline development. Saracen Conditioning Cubes are formulated to a barley and whole-oat free recipe helping to keep the starch level low. The energy in the ration is supplied through highly...
---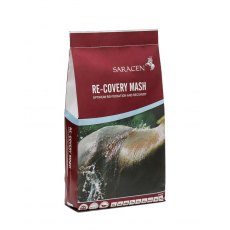 Saracen Re-Covery Mash - 20KG
Saracen Re-Covery Mash is highly palatable, versatile and convenient to use in many different situations. It contains a blend of ?Super-Fibres?, known for their superior digestibility and provision of non-heating calories, plus a source of electrolytes to aid re-hydration.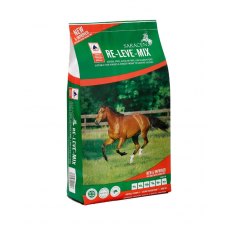 Saracen Re-Leve Mix Feed - 20KG
Saracen Re-Leve is a cereal free, low sugar, low starch performance feed that is especially useful for sensitive horses. Saracen Re-Leve is suitable for horses that are prone to tying up. It helps by completely replacing all hard feed and cereals.
---
SARACEN SHOW IMPROVE MIX - 20KG
Saracen Show Improver Mix is a conditioning & weight gain mix to support optimum conditioning, muscle tone & topline development in show horses & ponies. This is a high calorie conditioning diet free from oats that is specially formulated for easy & controlled weight gain, preparing horses & ponies for the show ring. The mix is Alfalfa based along with micronized soya beans &...
SARACEN DONKEY DIET - 20KG
Saracen Donkey Diet is a great feed for managing the nutritional requirements of all donkeys, even those that are older, working, lactating & those that struggle to keep condition. This is a low energy feed high in fibres which provides a slow, steady release meaning no mood swings & a safe source of calories. Low energy feed High in digestible fibre Specially designed for donkeys The...
Saracen Categories