---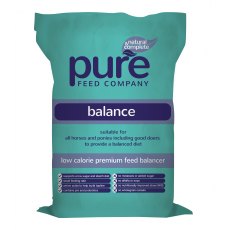 PURE BALANCE PELLETS - 15KG
Pure Balance is designed to give your horse the full spectrum of vitamins and minerals, as well as amino acids, prebiotics and probiotics. This brings a whole host of health benefits including promoting hoof and bone growth, supporting the immune system, promotion of gut micro flora and helping overall health and vitality. Linseed in the formulation promotes a healthy coat condition and shine, so Pure...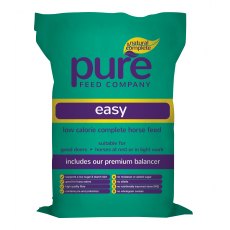 PURE EASY MIX - 15KG
Pure Feed Pure Easy provides slow-release energy for horses in work, but is low calorie so doesn't encourage weight gain. It is high in fibre which promotes good hind gut health. It contains our premium balancer which means it comes fully loaded with every vitamin and mineral your horse needs, as well as pre and pro biotics and amino acids. With so much included in one bag, it really is great...
---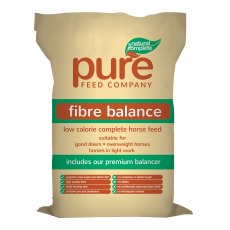 PURE FIBRE BALANCER MIX - 15KG
Pure Feed Fibre Balance is a great choice for feeding good doers. It contains a larger ration of our high-quality balancer, in comparison to our other feeds, as well as grass chaff, oat straw chaff and unmolassed sugar beet which gives it a high fibre content. This is good for gut health. It is also low calorie which means that it is perfect for horses that put weight on easily or are fizzy. Because...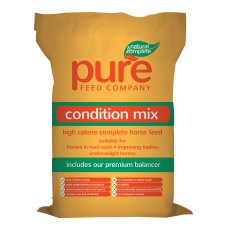 PURE CONDITION MIX - 15KG
Pure Feed Pure Condition is the ultimate high-quality horse feed for you to buy if you want to improve the condition of your horse without the fizz. It is a fibre based feed designed with oil as the main energy source. This provides your horse with calm calories as it releases energy slowly into the body. As well as promoting positive behaviour, Pure Condition efficiently supports topline and muscle...
---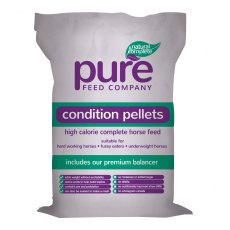 PURE CONDITION PELLETS - 15KG
Pure Feed Pure Condition Pellets are designed to improve the condition of fussy horses without making them excitable. Because oil is the main energy source, Pure Condition Pellets give your horse calm calories as they release energy slowly. As well as encouraging positive behaviour, Pure Condition Pellets support topline and muscle development. Opting for pellets can be helpful if your horse is...
PURE FEED PURE GRAZE/MEADOW MASH - 15KG
Pure Feed Pure Graze is a fast soaking micro pellet hay replacer. It contains a blend of high quality fibres and herbs for optimum gut health and to tempt even the fussiest eaters. Formulated for all horses and ponies especially those with poor dentition, horses with dust sensitivity and those requiring a low sugar and starch diet.
---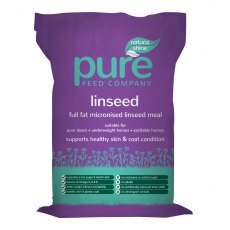 PURE LINSEED - 15KG
Pure Feed Pure Linseed contains just one ingredient; micronised linseed – and nothing else! It can be fed straight from the bag with no need for soaking or boiling – thanks to the micronising process we apply to it. This pre-cooks it at a high temperature and because of this, it retains flavour. Therefore it's highly palatable for your horse as well as convenient for you. High...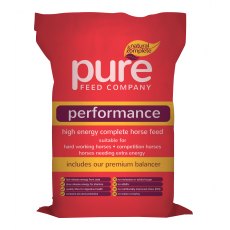 PURE PERFORMANCE MIX - 15KG
Pure Feed Pure Performance delivers doubly on energy. As well as our usual preferred slow-release energy source of oil, this feed also contains high-quality whole oats. These oats provide the fast-release energy kick that high-level competition horses require. So immediate energy and prolonged stamina are covered, but as with our other feeds this is an all-in-one solution for you. That's because...
---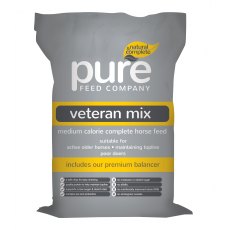 PURE VETERAN MIX - 15KG
Pure Feed Pure Veteran Mix is formulated for senior horses that need extra help maintaining condition or are still in regular work. It provides a ration of slow-release calories to help maintain weight. Older horses generally have a higher requirement for vitamins and minerals due to decreased efficiency of absorption in their gut. Therefore, Pure Veteran Mix contains elevated levels of vitamins and...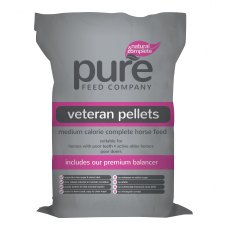 PURE VETERAN PELLETS - 15KG
Pure Feed Pure Veteran Pellets are ideal for older horses that require a mash. Packing the same nutritional value as a mix, but served in a different form, it can help you tempt your horse if they are a fussy eater. Senior horses generally need more vitamins and minerals because their gut is less efficient at absorbing them than younger horses. We have formulated Pure Veteran Pellets to include...
---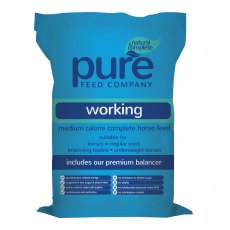 PURE WORKING MIX - 15KG
Pure Feed Pure Working is ideally formulated for horses in regular work such as taking part in riding club activities and competing. It is also good for horses with laminitis or Cushing's who need to gain weight in a safe way. It is low in sugar and starch but contains a higher energy and protein ration. In addition, you will find it a great feed if your horse is at rest or in light work but...
PURE FEED COMPANY PURE+ ELECTROLYTE - 1.68KG
Pure Feed Pure+ Electrolytes is advisable to supplement your horse's diet with electrolytes (including sodium, chloride, potassium, calcium and magnesium) as horses cannot generate them naturally themselves. Electrolytes are lost through normal bodily functions like sweating. Pure Electrolytes have been formulated by top equine scientist Dr David Marlin. Among the key benefits of Pure Electrolytes...
Pure Feed Company Categories