---
COUNTING SHEEP GUSSET MATTRESS LARGE
This mattress provides a comfortable space for your companion to spread out and lounge Super-soft removable cushion pillow Machine washable cover at 30°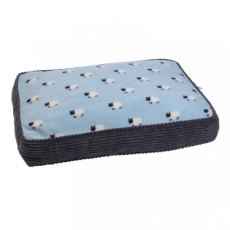 COUNTING SHEEP GUSSET MATTRESS MEDIUM
This mattress provides a comfortable space for your companion to spread out and lounge Super-soft removable cushion pillow Machine washable cover at 30°
---
LADYBUG PILLOW MATTRESS
With plenty of room to stretch out, your dog will adore our Velour Ladybug Pillow Mattress. There's also a removable zipped cover, so you can machine wash it at 30°.
from £24.99
ex VAT from £20.83
QUILTED MATTRESS
Mattresses are made to fit oval plastic beds Supersoft Polyester Fibre to give even more softness, warmth and comfort Hand wash advised
from £7.99
ex VAT from £6.66
---
SNUG & COSY DOG BED LOUNGER
Featuring a soft fleecey reverse, this quality dog bed offers great design and comfort. This bed can be machine washed, making it easy to keep clean and fresh. 100% British Made.
from £32.00
ex VAT from £26.67