Bosch 18V Collection
---
---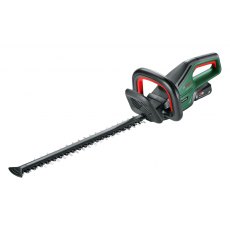 BOSCH CORDLESS HEDGE CUT UNIVERSAL 18V-50
Bosch's cordless 18V Universal HedgeCut 18V-50 with brushless motor delivers high power, resulting in a significantly longer service life. Its lightweight design reduces strain, making long hours of hedgecutting enjoyable. The Universal HedgeCut 18-50 is the perfect choice for trimming medium-sized hedges such as; conifer, privet, laurel, and beech with branch thicknesses of up to 20 mm. With a...
---
BOSCH CORDLESS HEDGEPOLE 18V
This Bosch Cordless long reach hedge trimmer allows you to cut higher up hedges without the need for a ladder It features a height-adjustable, telescopic pole with a pivoting head providing a ladder-free, easy reach of up to 2.6 m. The Bosch Anti-Blocking System delivers a powerful and continuous cutting performance. It is lightweight (3.6 kg) and optimally balanced for comfortable handling. A powerful...
BOSCH EASY HEDGE CUTTER 18V-45
Easy lightweight cutting with optimum performance Bosch Anti-Blocking System for non-stop cutting Lightweight 18 V cordless hedgecutter POWER FOR ALL 18 V Li-ion battery delivers optimum performance 45-cm blade length and 15-mm tooth spacing for light trimming work Cordless mobility for freedom of movement around the garden
---
BOSCH EASYGRASSCUT 18V-230
The Easy Garden Tools from Bosch - for small and medium-sized gardens Cutting at different heights with a comfortable posture: Lightweight, balanced design and adjustable auxiliary handle for easy handling and optimal results. Continuous cutting and lawn trimming: Uninterrupted cutting thanks to the line feed system that is activated whenever the trigger is released, eliminating the need for...