---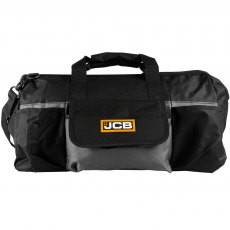 JCB 20 Kit Bag With Soft Base | 21-KBAG
JCB 20 (508mm) tool kit bag ideal for transporting small to medium power tools, hand tools and accessories. Multiple pockets for storing and transporting tools and accessories Padded shoulder strap Soft grip carry handle
JCB 26 Trolley Handled Kit Bag | 21-18VKB
JCB 26 (660mm) tool kit bag with wheels ideal for transporting power tools, hand tools and accessories. Multiple pockets for storing and transporting tools and accessories Telescopic trolley handle 2x wheels for easily transportation of your tools Padded shoulder strap Soft grip carry handle Key Features Made of durable materials for internal protection against tool damage and wear Designed as...
---
JCB Power Tool Case | JCB-WB136
JCB W-Boxx 136 power tool case. W-Boxx storage system made by Sortimo Rugged and versatile tool storage system to make tools easily identifiable and accessible as well as being secure and protected from damage Compatible with van racking systems Stackable cases for storing and transporting tools efficiently Identification labels provide a quick reference to contents withstands loads up to 25kg With...