---
CLIPSTER FARMSHEAR CORDLESS SHEEP CLIPPER
The battery powered sheep shearing machine with a high voltage of 14.4 is the perfect complement in the Farm Clipper range. The slim shape and the balanced weight ensures fatigue and free working, so wether a cable operation is not possible and for the special application in sheep or to the cattle shearing under extreme conditions. Due to the high power reserves of the 14.4 V battery with 2000mAH,...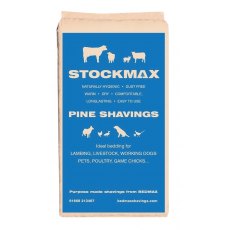 STOCKMAX SHAVINGS - 20KG
Stockmax Pine Shavings are a versatile bedding solution that has a unique natural ability to kill many strains of bacteria & fungi whilst keeping animals safe. These shavings have been cut that little bit bigger to aid air circulation with smaller shavings being added to help absorb any mess & keep odours down to a minimum.
Stockshop Categories