---
BIRD SCARING ROCKETS SKYBIRD 10BOX
SkyBird rockets are the ULTIMATE DETERRENT to clear away persistent and stubborn birds for long periods. Launched at an angle of approx. 45', by an out-of-view operator, the unexpected loud mid-air explosion ensures non return for many hours, especially if reinforced by a second rocket set off very soon after the first.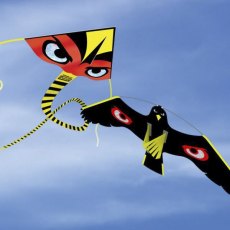 TERROR KITE COMPLETE KIT
Quiet and extremely effective, the Terror Kite and Terror Hawk are always on patrol even in the lightest breeze. The Terror Hawk mimics the movement of a natural predator hovering over the crops, keeping the birds away. The Terror Kite disorientates the birds with its constant movement as it moves as it swoops, dives and climbs . Both feature reflective eyes, predator colours which are proven to scare...