---
HORSEHAGE HAYLAGE - RED ALFALFA
Horsehage Lucerne Red contains just grass and is ideal for all horses and ponies. HorseHage is dust free, making it ideal for when your horse has to be stabled for extended periods of time. It does not contain any chemical additives, flavourings, molasses or inoculants, and due to the unique fermentation process, the sugar in HorseHage is considerably lower than other forages. HorseHage is more digestible...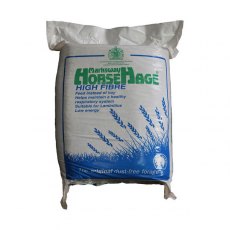 HORSEHAGE HAYLAGE - BLUE
Horsehage High Fibre Blue is a semi-wilted grass sealed in a bag without the dust or spores which are found in hay. Made from the highest quality grasses there are no artificial preservatives added, just natural fermentation inside the bag preserves the grass as HorseHage. It is cut just like hay but, instead of being allowed to dry completely, it is baled when the grass has wilted and the dry matter...
---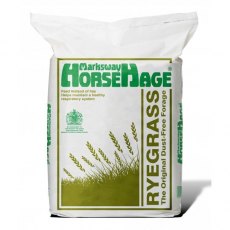 HORSEHAGE HAYLAGE - GREEN
Horsehage Ryegrass Green is made from a selection of ryegrasses cut at an early stage of growth to provide optimum protein and energy levels. HorseHage provides long digestible fibre, protein, energy, vitamins and minerals. It is ore nutritious than hay, so hard feed quantities can be reduced accordingly. Each bag contains, on average, sufficient to feed a 500kg horse for 3 days. Best fed from a fine...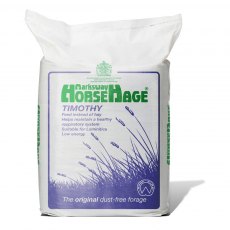 HORSEHAGE HAYLAGE - PURPLE TIMOTHY
Horsehage Timothy Purple is a high fibre, low protein grass making it particularly suitable for leisure horses and ponies, native ponies, veterans and horses and ponies that are resting, convalescing or laminitic. Horsehage Timothy Purple is highly palatable, making it ideal for fussy feeders or simply to add variety to the diets of this already being fed HorseHage. Approx weight: 23kg