---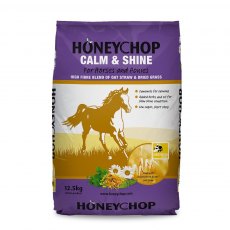 HONEYCHOP CALM & SHINE - 12.5KG
Honeychop Calm & Shine is a blend of high fibre oat straw, dried grass, marigold, nettle, mint, camomile and oil. It is an excellent fibre choice if your horse, or pony is a little excitable or if you just want great condition and ease of riding. Added herbs and oil for show shine condition With camomile and nettle for calming Low sugar short chop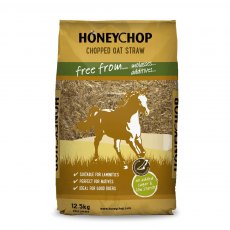 HONEYCHOP CHOPPED OAT STRAW - 12.5KG
Honeychop Chopped Oat Straw is a straight high fibre feed which is cleaned and dust extracted, a pure natural product with nothing added. Made using only oat straw from selected assured farms, we can assure every bag is of a consistent high quality. The unique manufacturing process means that the oat straw is screened and cleaned to remove all small fine particles and dust, leaving only a clean, bright...
---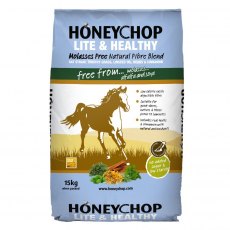 HONEYCHOP LITE & HEALTHY - 15KG
Honeychop Lite & Healthy is a non-heating, low sugar fibre feed that has been coated with linseed for improved palatability, health and condition. Blended with a mix of real herbs known for their natural antioxidant properties it can be fed to a wide range of horses, ponies or donkeys. Ideal for overweight horses or good doers.
HONEYCHOP SENIOR - 12.5KG
Honeychop Senior is the perfect fibre choice for your veteran. It is a blend of chopped oat straw with added alfalfa, mint, oil and a very low sugar dressing. A blend of high fibre oat straw, alfalfa, mint and oil Low sugar short chop Easily digestible Easy to chew
---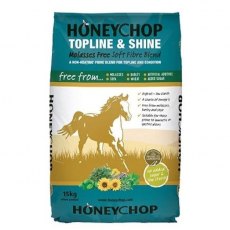 HONEYCHOP TOPLINE & SHINE - 15KG
Honeychop Topline & Shine is a molasses free soft fibre blend. A non-heating fibre blend for Topline and Condition. Suitable for Laminitics or horses prone to gastric ulcers, Topline & Shine is a unique new fibre product to support condition without causing excitability. The palatable, quality fibres of Timothy grass, Alfalfa and Oat straw have been blended with a high oil, low starch pellet,...