---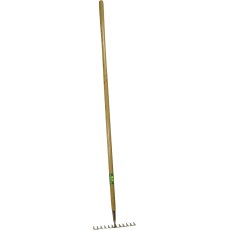 ---
Darlac Sickle
The award-winning Darlac Sickle is perfect for clearing nettles, thistles, briars, undergrowth and vegetation with ease. This garden sickle features an aluminium handle with a solid rubber grip and a razor-sharp, resharpenable carbon steel blade to make simple work of clearing the garden of unwanted growth.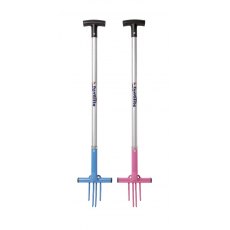 ---
Gardener's Mate Hand Cultiweeder
This Gardener's Mate 3 Prong Hand Cultivator is great for cultivating, aerating and leveling the soil surface ready for planting in your beds and borders. Made from coated carbon steel to protect from rust Soft-grip rubber and plastic ergonomic handle for comfort 3 strong prongs
Kent & Stowe Stainless Steel Hand Cultivator
This Kent & Stowe Stainless Steel Border 3 Prong Cultivator is great for the efficient cultivating of soils, beds and also borders. It's midi size handle makes it easy to work in those hard to reach places such as backs of borders. With a high quality stainless steel head as well as a beautiful ash wood handle, this Border 3 Prong Cultivator comes with a 15 year guarantee. High quality...
---
---
---
Wolf M-c Swoe
This multi-change Swoe Style Hoe from Wolf Garten is for weeding around and behind plants in tight situations. It features a push and pull action for severing weeds from their roots and a sharp arrow shaped tip to help improve efficiency in confined areas. The stainless steel tool head is durable and resists corrosion. Ideal for weeding around and behind plants Excellent in tight situations Push...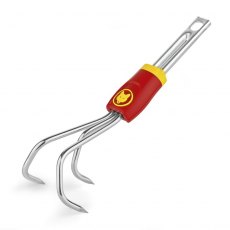 Wolf Mini Cultivator
Thanks to the three pointed tines, even medium-heavy soils can be easily aerated and broken up with the BE-M multi-star Cultivator. The working width is 7 cm. The ZM02 and ZM04 handles are ideally suited to the multi-star Cultivator. Loosens soil in small beds carefully for optimum nutrient supply, particularly durable due to 3 fold sealing
---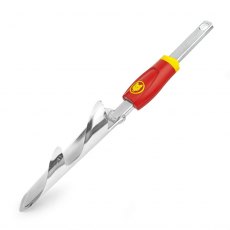 Wolf Weed Extractor
Easy extraction of thistles, dandelions and other deep-rooting weeds is possible, thanks to the IWM Multi-Change® Weed Extractor. Push the extractor into the ground next to the weed that is to be removed and extract it with a full clockwise turn. The ZMAD Aluminium 'D' Handle is especially suitable for this weed extractor. 4 cm Push into ground, twist and pull out Stainless steel